Gigi Hadid boasts over 28 million Instagram followers, is BFFs with the Jenners and has walked for the likes of Tom Ford and Chanel — all at the age of just 22. And then there's her personal style — cool, eclectic and completely individual. Just three reasons why she's one of our new favourites on the fashion scene.
Picture editor: Sandra Waibl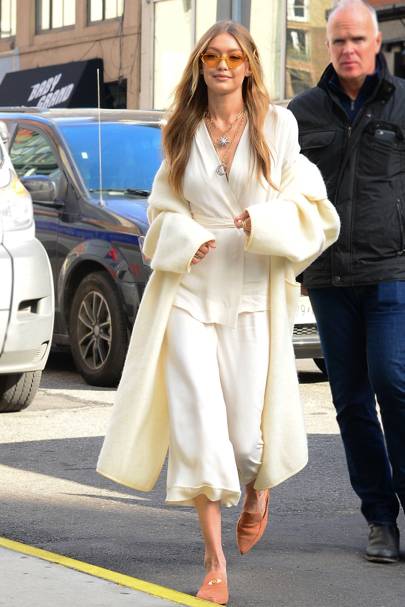 Gigi rocked bathrobe chic while seen out and about in New York City.Getty Images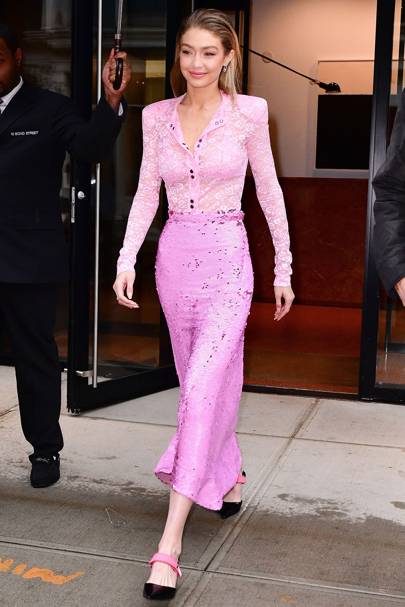 Gigi brightened up a gloomy autumn day as she headed to The Today Show wearing head-to-toe candy-coloured pink. The model wore a lace blouse with a sequin skirt and pumps, all Nina Ricci.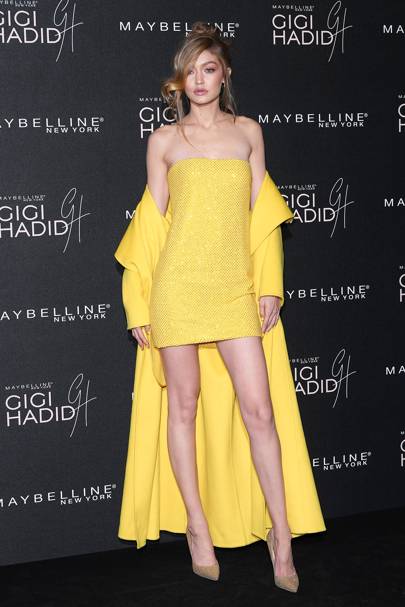 Gigi Hadid wowed in yellow again at the UK launch of Gigi x Maybelline, this time in a embellished Ralph Lauren strapless dress with a matching coat.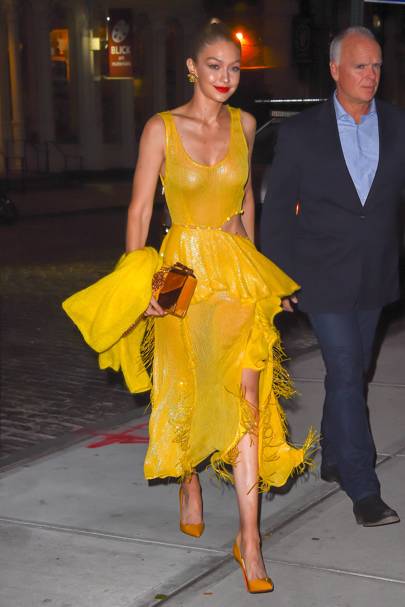 Gigi in yellow = our new fave thing. The model wore this chiffon Prabal Gurung dress for a night out on the town.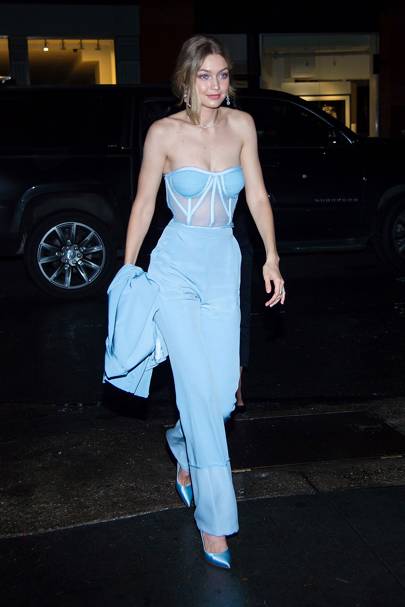 For her sister Bella's 21st birthday, Gigi rocked an all baby blue look comprised of a corset, high-waisted trousers and satin pumps.Getty Images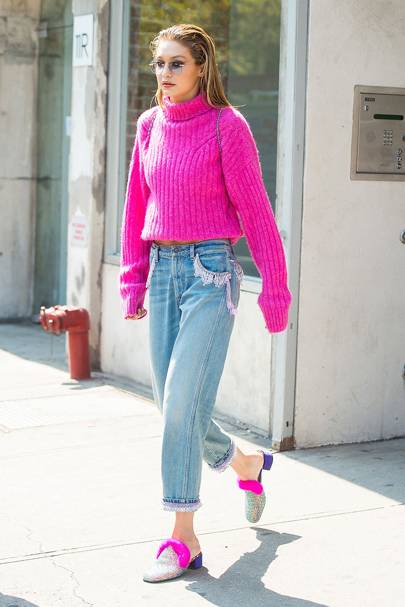 Gigi is a huge fan of pink, and she isn't afraid to wear it BOLD. Please see her neon pink roll neck sweater worn on the way to the Anna Sui show. But can we talk about her shoes? The glittery loafers with neon pink trim look a bit like a unicorn has thrown up on them — THEREFORE WE LOVE THEM.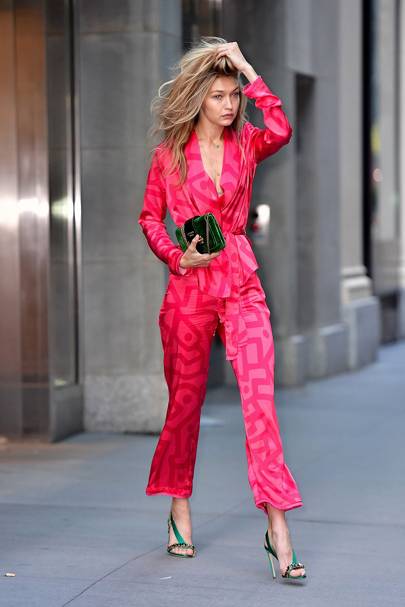 Looking like a real life Barbie doll (once again), Gigi makes her way to a NWFY event in a MARCH11 jacket and coordinating bell bottoms, paired with emerald green Olgana Paris sandals.Getty Images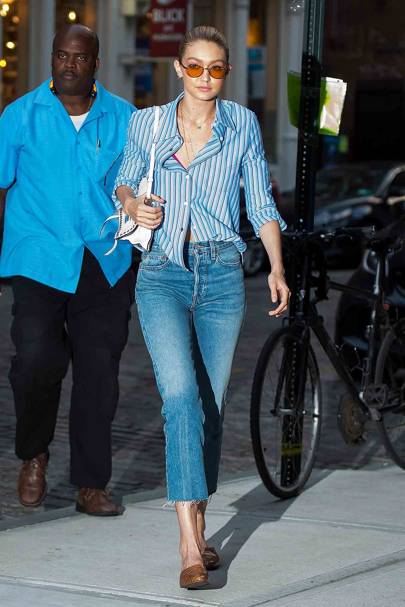 The shirt and jeans combo has is often under-appreciated of late, but it's worth remembering it's one of the best, effortless summer combos. Gigi striped shirt and kick-flare combo with tinted sunnies,n flats and cute white Prada handbag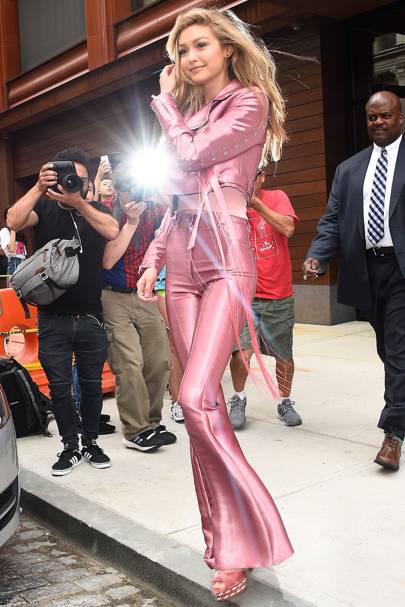 Heading to the launch of her Vogue Eyewear collection, Gigi killed it in a metallic pink suit with flared trousers and a tasseled jacket. She wears Aquazzura Fall 17 heels.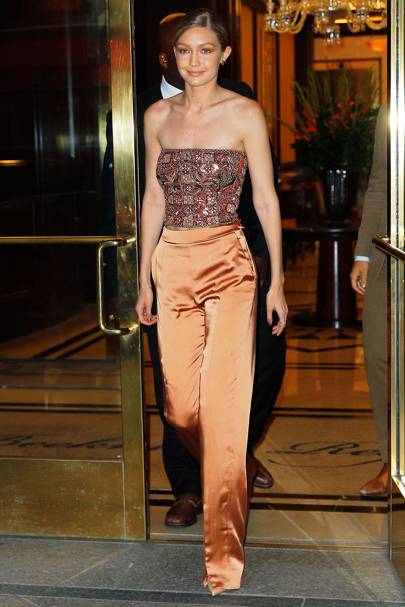 We're obsessed with this bronze goddess look. Gigi stepped out in a heavily embellished top paired with tailored satin trousers, and fresh-faced makeup with a hint of colour on the eyes.Getty Images 
 Gigi Hadid owns the streets of New York City, as she makes her way to her Manhattan apartment in an oversized ensemble, paired with white leather boots and red sunnie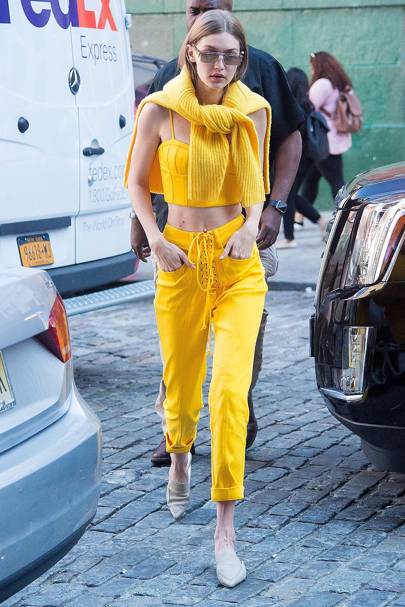 Gigi brightened up the whole of New York City in a bright yellow ensemble.